Since having a kid, I've been experimenting with various bike accessories and figured this is a fine place to share a few insights I've gained along the way. As you might expect, I've had to make a few modifications as needed so here's a compilation:
Dual wheel bike trailer & spring mount
The first thing I picked up was a bike trailer. I wasn't sure I'd like this but found one used on craigslist pretty cheap so figured why not give it a shot. I'm going to write this as a general overview of types not for a specific model(s). Your mileage may vary. I'm not going to link this one because it's specifically discontinued, but there are plenty of similar ones available with related pros/cons:
Pros:
Lots of space- you could fit two kids in here and still have space for some cargo in the back.
Two wheels gives you some stability over uneven terrain and allows it to not torque the linkage from the cart to the seatpost (or wherever its mounted).
Fully contains your kid so that there's no opportunity to reach out and grab things or get a hand stuck in spokes or some passing object. Also, allows for use in other contexts (pets, groceries,cargo, etc..)
Wheels pop off for relatively compact storage or transport.
Fully enclosed roll cage & seatbelts offer some additional protection in a crash.
Cons:
Bulky to drive
A little top heavy and the configuration allows for it to flip around turns or if one wheels gets an especially hard bump. We actually saw a family flip one of these with two kids inside on the Virginia Creeper trail- fortunately everyone was OK.
Hard to maneuver thru tight spaces- we generally ride this on narrow sidewalks in our neighborhood, and this was it's ultimate undoing, it hooked a pole and stretched out the spring(see pic). Need to fix that.
The fabric can wear thru in areas- its fair to blame this on the fact I got this secondhand, but I duct taped a few trouble areas and actually fabricated a wooden floorpan because the fabric one could be dragged if you put too much weight on it.
Mounting clamp only compatible with conventional bike frames, unless you want to fabricate your own weird setup (see example).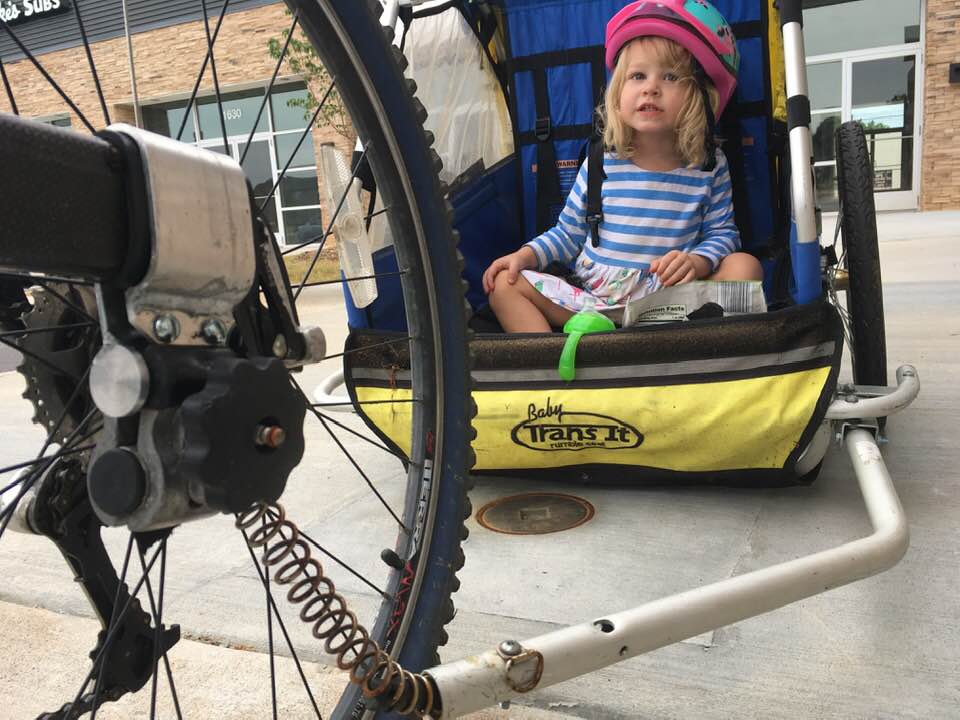 Doesn't mount to carbon fiber so well.
Next up we have a handlebar mounted seat, in this popular example from Ibert. There are assorted versions of this concept but I would guess they'd all have a similar review.
Pros:
Your kid will likely enjoy the view much better than a view of your butt.
You get to interact a lot more readily with your child and not have to worry as much about what's going on behind you.
Overall seems pretty comfortable, and child is safely constrained above most hazards.
You can get accessories for this kit to keep your child entertained in case your riding just isn't exciting enough.
The unique mounting arrangement provides a lot of versatility and compatibility with bike types including full suspension mountain bikes like mine.
Cons:
Evidently I over torqued the mounting bracket during my very first installation attempt. It's cast aluminum, but I'm somewhat happy I did as this is much preferred than it breaking out in the wild.
Your child will likely grow out of this pretty quickly so enjoy it while you can.
The seat pad, while comfortable has these plastic pegs that break/fall out pretty easily and then you're left kinda just trying to position it on your own.
Because of the way the seat belt is arranged so low, your child will get to wear it kinda like suspenders and that's not so great. Cinched up or not, it just doesn't seem very secure or well thought-out. The clips securing it aren't that secure either.
The seat intrudes on your leg area when pedaling, so depending on your arrangement you may well end up pedaling a bit bow legged to avoid bumping your knees constantly on the seat.
Summary:
Conceptually I still like this approach- if she hadn't grown out of it we'd still probably be using it. It allowed me to navigate around obstacles with no concerns about either crashing into things or hooking a trailer style carrier on an obstacle. The steel handlebar extension mount I fabricated played a strong role in this review- I could probably ride in it myself given the strength improvement- cast aluminum is just not a great choice for the bracket in my opinion.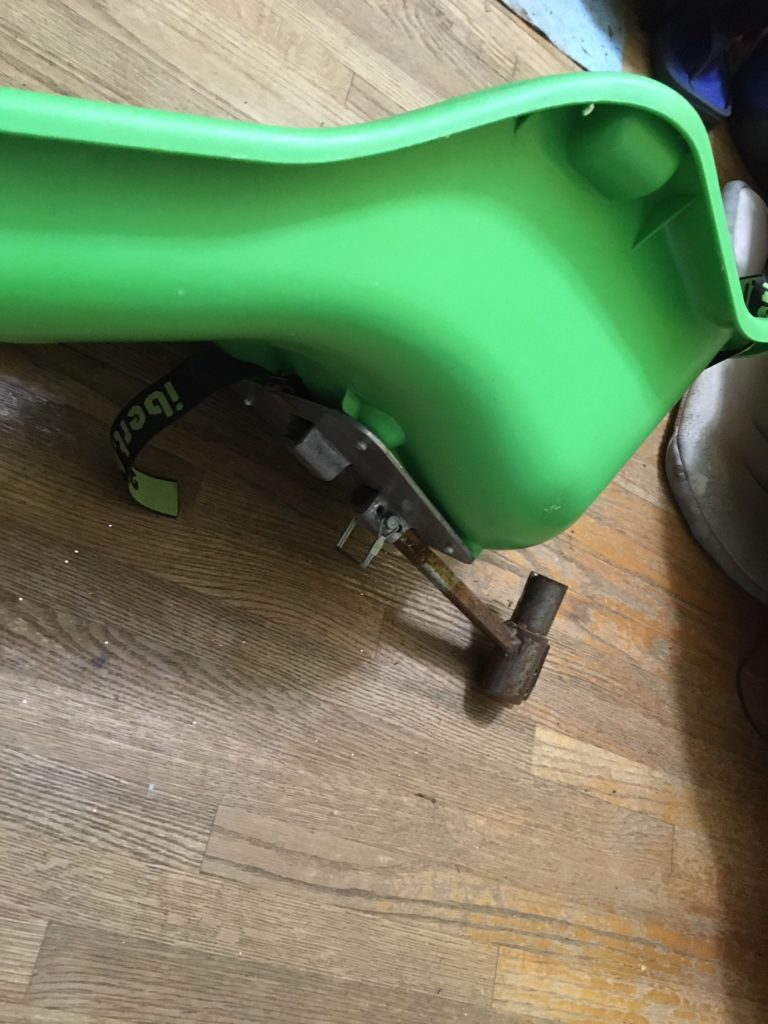 "WeeRide" CoPilot bike trailer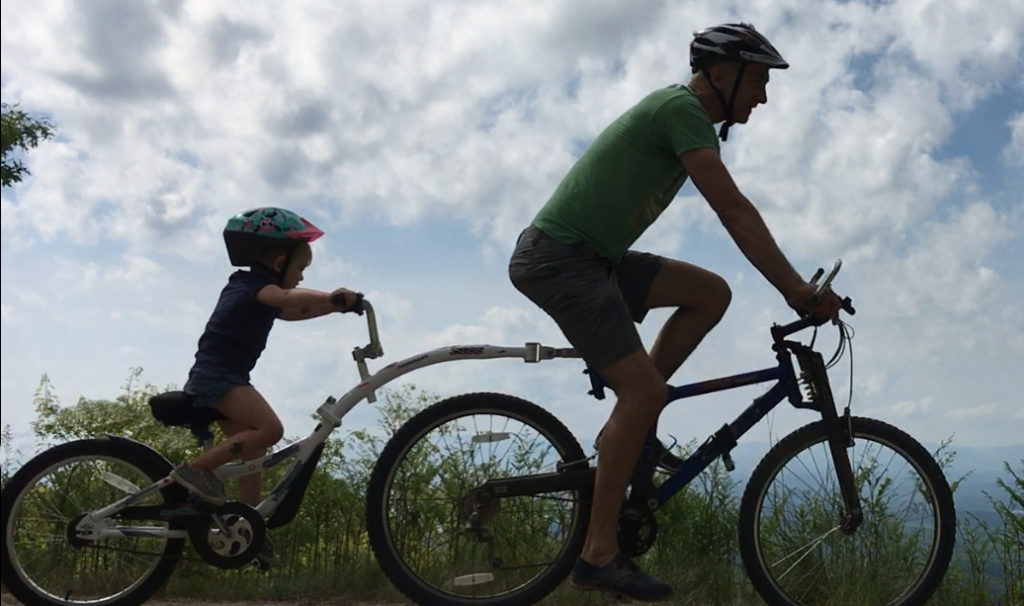 This one is pretty good, actually. Just as we were growing out of the example above, a neighbor gifted us this trailer as his child is already onto a real bike. I was considering something along these lines and particuarly like that it has pedals.
Pros:
My favorite thing is that this has pedals as opposed to some other similar examples. This lets her not only contribute to actual propulsion but to get used to pedaling and build leg muscle for such activities.
Foldable- It has a nice secure folding feature that makes it pretty simple and compact to stow and transport, though I still haven't quite figured the best way to add it to the car carrier.
The single wheel allows a narrow following profile so its pretty agile at obstacle avoidance and follows your tire path pretty effectively.
The rider also gets their own handlebars so we can get familiar with favorite additions like lights and a bell.
Versatile mount scenario allows for use with a wide variety of bikes including full suspension mountain bikes.
Cons:
The way this mounts to the seat tube makes for a bit of a strange ride sensation. Too loose and it floats around, too tight and it will turn your seat along with it. Definitely takes some getting used to.
On some bikes- especially smaller ones, frame clearance over the lead bikes rear tire is an issue. This was the case on my wife's bike, but once again some fabrication came to the rescue and I made a funky mount pointing the square mount socket at probably a 40 degree angle. This allows it to work, but if her bike exceeds maybe 30 degrees or so of difference between the trailer bike, her rear wheel will rub the frame.
The seat isn't the most comfortable- she had some thigh blisters on her first (long!) ride. We got her a gel seat cover and that seems to help. It's fair to say it may be true of any seat/bike as she hadn't ridden this style of bike previously.
Summary: All things considered I still like this one a lot and its the most appropriate for her age in my opinion. The build quality is overall good and we expect to put a lot more miles on this over the next few years.
Also- Del's riding confidence is bolstered by her pal Saul the camel who now has his own cool riding trailer cited here. We have a pretty long riding train now!
**Mom's fabricated mount example shown below includes a corrected error which resulted in me welding a 2nd tube mount onto the 1st. Now it looks like binoculars. haha.